Since it looks like snow for the rest of the week, we might as well start talking about winter.  This year, more than ever, your nutrition and health will matter.  We're watching Covid-19 cases skyrocket in our area and it can feel a little out of control.  As I've been reminding you throughout the year, we cannot control everything, but we can always control how we eat, supplement and move our bodies. I'd like to highlight a couple herbal supplements you can work into your routine this winter.  The first is an herb you've heard a lot about from me; Calendula.  Calendula is wonderful for a moderate immune and lymphatic stimulant, easy to come by and easy to work into your routine.  You can get the benefits topically, but rubbing Calendula oil into your skin after a bath or shower.  Mix with a little rose oil for a really indulgent experience!  It can also easily be taken as a tea! You can learn more about this herb here.

Usnea is the other herb I'd like to highlight.  My friend Barb has had a few friends supplement with Usnea upon contracting Covid-19 with success of helping them move through the viral infection.  Studies have shown it can promote antiviral activity.  This is a strong herb, so I would suggest using it for a limited time if you are exposed or contract Covid-19. You can learn more information on this herb here.

I'll be reminding you about these herbs on Facebook again later this month. Make sure to follow along!  I'll also be taking about a week off around Thanksgiving. If you are wanting to schedule a colonic before or after the holiday, please give me a call soon. My available dates are booking quickly!

Cheers to your Radiant Health,
Cassandra

P.S. I'm including two nourishing recipes that are great for the season below!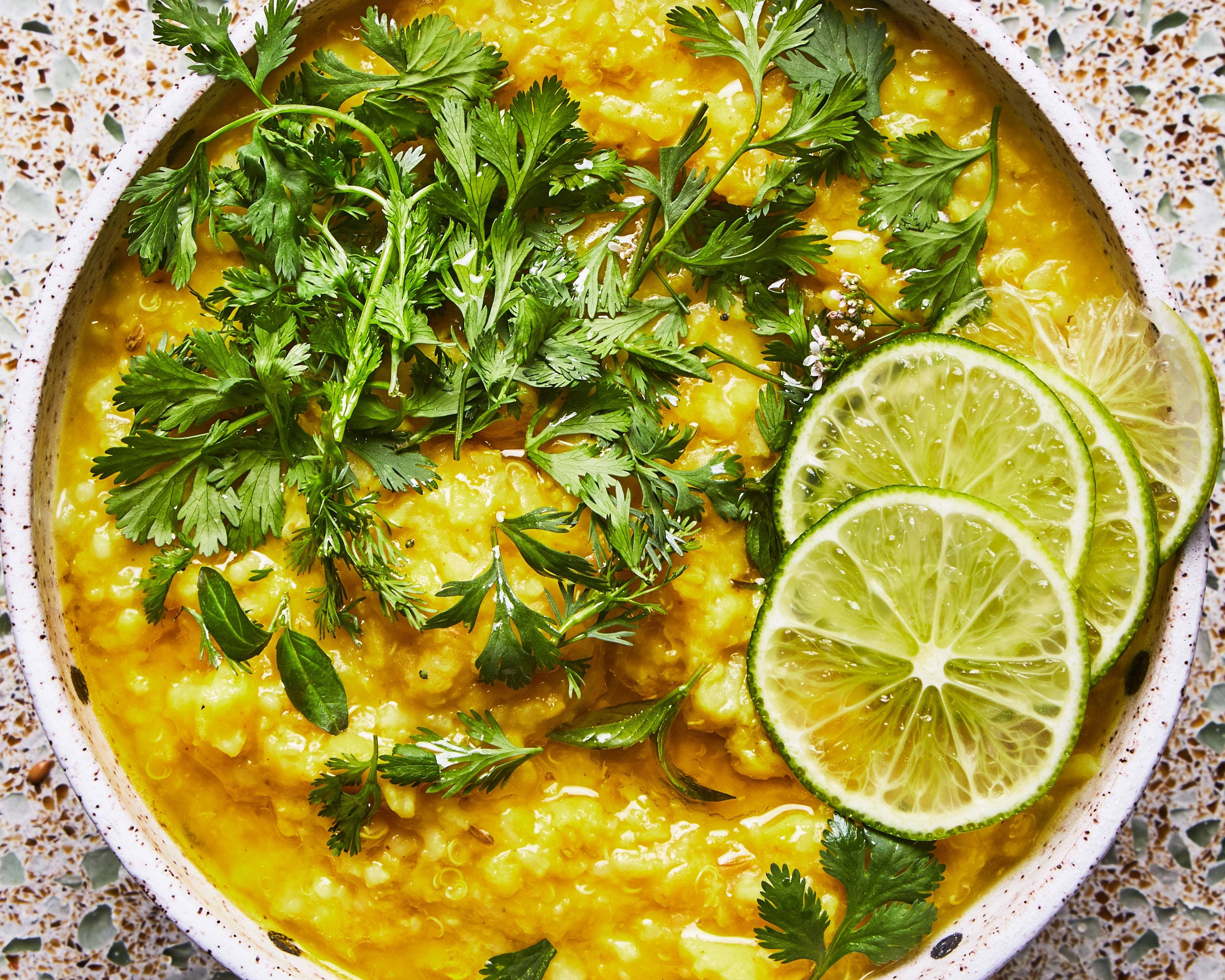 Photo from Bon Appetit.
Khichari (Savory Dal & Rice)
by Pilgrims Market
KHICHARI (SAVORY DAL & RICE)
Makes 4 to 6 servings.

STEP 1:
1 C basmati rice
2/3 C mung or toor dal, lentils or split peas
5 C water 

STEP 2
2 Tb ghee or oil
Pinch of hing (optional)
2 Tb minced fresh ginger
1 tsp cumin seeds
3/4 tsp fennel seeds
1/4 tsp ground coriander
1 tsp tumeric
Salt or liquid seasoning
Sugar (optional)
Chopped fresh cilantro 

In a pot, bring the rice, beans and water to a boil. Cover, reduce the heat and simmer until the dal is tender. Once all the water is absorbed and the mixture resembles a thick porridge — about 1 1/2 hours. Stir occasionally and be alert toward the end of the cooking so that the mixture doesn't stick. Add more water if necessary. 

Heat the ghee or oil in a small skillet. Add the hing, ginger, cumin seeds, mustard seeds and fenugreek. Saute over low heat until the mustard seeds "dance". Add to the Khichari. Stir in the tumeric. Add salt or liquid seasoning and a pinch of sugar to taste. Garnish with chopped cilantro. 

VARIATIONS: Cook finely cut vegetables in the Khichari. Try green beans, carrots, peas and zucchini. 

To balance Kapha, add black pepper to taste or add chilies to taste to the ghee or oil. Replace Basmati Rice with Barley to further balance Kapha. To balance Vata, garnish with toasted unsweetened coconut shreds or chopped toasted almonds or cashews stir in a small amount of coconut milk before serving to further balance Pitta. 

NOTE: A basic, important Ayurvedic dish. Mung bean Khichari is balancing for all doshas. Unadorned Khichari is served in cleansing diets and while undergoing Panchakarma, the supreme Ayurvedic rejuvenation treatment. It is also suitable when people are ill and for the delicate digestions of the very young and very old.
 

Photo from Heartland Cardiology.
Pumpkin Spice Smoothie
by Pilgrims Market
Makes one generous serving 

1 C almond milk 
1/2 C pure pumpkin (canned)
1/2 banana
1 tsp maple syrup
1/2 tsp vanilla extract or the seeds from one half of a vanilla bean
1/4 tsp ground cinnamon
1/8 tsp ground ginger
Pinch ground nutmeg 
Pinch ground cloves
Pinch allspice 

Place everything in a blender. Blend until smooth. Pour into your favorite glass and serve! 

Cassandra Orjala of Radiant Health has been dedicated to Holistic Health and Nutrition for over 30 years. She currently works and resides in Posts Falls, Idaho.